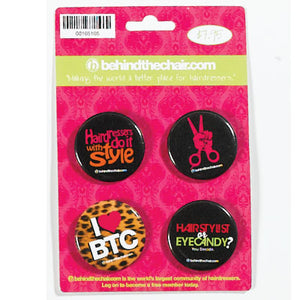 Fashionista 4 Pack Button
Show your hairdresser pride! Pin these 1 1/2 inch buttons to your favorite salon apron, bag, shirt, coat or anything that needs a little dressing up. They add a little 'tude to everything they adorn and make a great gift!
Fashinonista:
Do it with Style Hair Peace, I Love BTC Leopard, Hairstylist or Eyecandy.